The Composer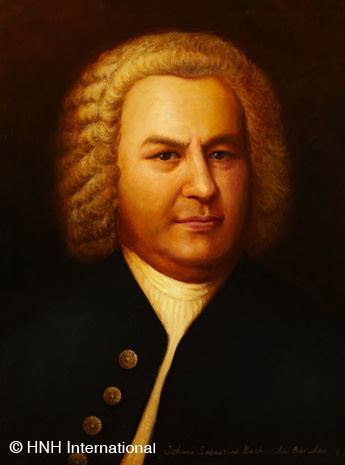 Johann Sebastian Bach belonged to a dynasty of musicians. In following inevitable family tradition, he excelled his forebears and contemporaries, although he did not always receive in his own lifetime the respect he deserved. He spent his earlier career principally as an organist, latterly at the court of one of the two ruling Grand Dukes of Weimar. In 1717 he moved to Cöthen as Court Kapellmeister to the young Prince Leopold and in 1723 made his final move to Leipzig, where he was employed as Cantor at the Choir School of St Thomas, with responsibility for music in the five principal city churches. In Leipzig he also eventually took charge of the University Collegium musicum and occupied himself with the collection and publication of many of his earlier compositions. Despite widespread neglect for almost a century after his death, Bach is now regarded as one of the greatest of all composers. Bach-Werke-Verzeichnis numbers, abbreviated to BWV, are generally accepted for convenience of reference.
Choral and Vocal Music
Bach wrote a very large amount of choral music, particularly in connection with his employment at Leipzig. Here, he prepared complete cycles of cantatas for use throughout the church year, in addition to the larger-scale settings of the Latin Mass and the accounts of the Passion from the gospels of St Matthew and of St John. These works include the Mass in B minor, BWV 232, St Matthew Passion, BWV 244, St John Passion, BWV 245, Christmas Oratorio, BWV 248, Easter Oratorio, BWV 249, and the revised setting of the Magnificat, BWV 243. Cantatas include, out of over 200 that survive, Herz und Mund und Tat und Leben, BWV 147 (from which the pianist Dame Myra Hess took her piano arrangement under the title Jesu, Joy of Man's Desiring, making this the most popular of all), Ein feste Burg ist unser Gott, BWV 80, Ich habe genug, BWV 82, Jesu, meine Freude, BWV 358, Mein Herze schwimmt im Blut, BWV 199, Wachet auf, BWV 140, and Jauchzet Gott in allen Landen, BWV 51, for soprano, trumpet, strings and basso continuo. The rather more formal half dozen or so motets include a memorable version of Psalm CXVII, Lobet den Herrn, alle Heiden, BWV 230.
Secular cantatas include the light-hearted Coffee Cantata, BWV 211 (a father's attempt to stem his daughter's addiction to the fashionable drink), the Peasant Cantata, BWV 212 (in honour of a newly appointed official), and two wedding cantatas, Weichet nur, BWV 202, and O holder Tag, BWV 210. Was mir behagt, ist nur die muntre Jagd, BWV 208, was written in 1713 to celebrate the birthday of the hunting Duke Christian of Saxe-Weissenfels and later reworked for the name day of August III, King of Saxony, in the 1740s. The Italian Non sa che sia dolore, BWV 209, apparently marked the departure of a scholar or friend from Leipzig.
Organ Music
Much of Bach's organ music was written during the earlier part of his career, culminating in the period he spent as court organist at Weimar. Among many well-known compositions we may single out the Chromatic Fantasia and Fugue in D minor, BWV 903, the Dorian Toccata and Fugue in D minor, BWV 538, the Toccata, Adagio and Fugue, BWV 564, Fantasia and Fugue in G minor, BWV 542, Passacaglia and Fugue in C minor, BWV 582, Prelude and Fugue "St Anne", BWV 552 (in which the fugue theme resembles the well-known English hymn of that name), Toccata and Fugue in D minor, BWV 565, and the Toccata and Fugue in F, BWV 540.
Chorale preludes are compositions for organ that consist of short variations on simple hymn tunes for all seasons of the church year. Better-known melodies used include the Christmas In dulci jubilo, BWV 608, Puer natus in Bethlehem, BWV 603, the Holy Week Christ lag in Todesbanden, BWV 625, and the Easter Christ ist erstanden, BWV 627, as well as the moving Durch Adam's Fall ist ganz verderbt, BWV 637, and the familiar Wachet auf, ruft uns die Stimme, BWV 645, and Nun danket alle Gott, BWV 657.
Other Keyboard Music
Important sets of pieces are the six English Suites, BWV 806–11, the six French Suites, BWV 812–17, the 'Goldberg' Variations, BWV 988 (written to soothe an insomniac patron), the 'Italian' Concerto, BWV 971, the six partitas, BWV 825–30, and the monumental two books of preludes and fugues in all keys, The Well-Tempered Clavier, BWV 846–93—the so-called '48'.
Chamber Music
During the period Bach spent at Cöthen he was able to devote his attention more particularly to instrumental composition for solo instruments, for smaller groups or for the small court orchestra.
Particularly important are the three sonatas and three partitas for unaccompanied violin, BWV 1001–6, works that make great technical demands on a player, and the six suites for unaccompanied cello, BWV 1007–12. There are six sonatas for violin and harpsichord, BWV 1014–19, and an interesting group of three sonatas for viola da gamba and harpsichord, sometimes appropriated today by viola players or cellists, BWV 1027–9. The Musical Offering resulted from Bach's visit in 1747 to the court of Frederick the Great, where his son Carl Philipp Emanuel was employed. From a theme provided by the flautist king he wrote a work that demonstrates his own contrapuntal mastery and includes a trio sonata for flute, violin and continuo. Bach had earlier in his career written a series of flute sonatas, as well as a partita for unaccompanied flute.
Orchestral Music
The six 'Brandenburg' Concertos, BWV 1046–51, dedicated to the Margrave of Brandenburg in 1721, feature a variety of forms and groups of instruments, while the four orchestral suites or overtures, BWV 1066–1069, include the famous 'Air on the G String', a late-19th-century transcription of the Air from the Suite in D major, BWV 1068.
Concertos
Three of Bach's violin concertos, written at Cöthen between 1717 and 1723, survive in their original form, with others existing now only in later harpsichord transcriptions. The works in original form are the Concertos in A minor and in E major, BWV 1041 and 1042, and the Double Concerto in D minor for two violins, BWV 1043.
Bach wrote or arranged his harpsichord concertos principally for the use of himself and his sons with the Leipzig University Collegium musicum between 1735 and 1740. These works include eight for a single solo harpsichord and strings, BWV 1052–9, and others for two, three and four harpsichords and strings. It has been possible to provide conjectural reconstructions of lost instrumental concertos from these harpsichord concertos, including a group originally for oboe and the oboe d'amore and one for violin and oboe.
Born in Hamburg, the son of a double bass player and his older seamstress wife, Brahms attracted the attention of Schumann, to whom he was introduced by the violinist Joachim. After Schumann's death he maintained a long friendship with the latter's widow, the pianist Clara Schumann, whose advice he always valued. Brahms eventually settled in Vienna, where to some he seemed the awaited successor to Beethoven. His blend of Classicism in form with a Romantic harmonic idiom made him the champion of those opposed to the musical innovations of Wagner and Liszt. In Vienna he came to occupy a position similar to that once held by Beethoven, his gruff idiosyncrasies tolerated by those who valued his genius.
Orchestral Music
Brahms wrote four symphonies, massive in structure, and all the result of long periods of work and revision. The two early serenades have their own particular charm, while Variations on a Theme by Haydn—in fact the St Anthony Chorale, used by that composer—enjoys enormous popularity, as it illustrates a form of which Brahms had complete mastery. A pair of overtures—the Academic Festival Overture and the Tragic Overture—and arrangements of his Hungarian Dances complete the body of orchestral music without a solo instrument. His concertos consist of two magnificent and demanding piano concertos, a violin concerto and a splendid double concerto for violin and cello.
Chamber Music
Brahms completed some two dozen pieces of chamber music, and almost all of these have some claim on our attention. For violin and piano there are three sonatas, Opp 78, 100 and 108, with a separate Scherzo movement for a collaborative sonata he wrote with Schumann and Dietrich for their friend Joachim. For cello and piano he wrote two fine sonatas: Opp 38 and 99. There are two late sonatas, written in 1894, for clarinet/viola and piano, Op 120, each version deserving attention, as well as the Clarinet Trio, Op 114, for clarinet, cello and piano, and the Clarinet Quintet, Op 115, for clarinet and string quartet, both written three years earlier. In addition to this, mention must be made of the three piano trios, Opp 8, 87 and 101; the Horn Trio, Op 40 for violin, horn and piano; three piano quartets, Opp 25, 26 and 60; the Piano Quintet, Op 34; and three string quartets, Opp 51 and 67. Two string sextets, Opp 18 and 36, and two string quintets, Opp 88 and 111, complete the list.
Piano Music
If all the chamber music of Brahms should be heard, the same may be said of his music for piano. Brahms showed a particular talent for the composition of variations, and this is aptly demonstrated in the famous Variations on a Theme by Handel, Op 24, with which he made his name at first in Vienna, and the 'Paganini' Variations, Op 35, based on the theme of the great violinist's Caprice No. 24. Other sets of variations show similar skill, if not the depth and variety of these major examples of the art. Four Ballades, Op 10, include one based on a real Scottish ballad, Edward, a story of parricide. The three piano sonatas, Opp 1, 2 and 5, relatively early works, are less well known than the later piano pieces, Opp 118 and 119, written in 1892, and the Fantasias, Op 116, of the same year. Music for four hands, either as duets or for two pianos, includes the famous Hungarian Dances (often heard in orchestral and instrumental arrangement) and a variety of original compositions and arrangements of music better known in orchestral form.
Vocal and Choral Music
There is again great difficulty of choice when we approach the large number of songs written by Brahms, which were important additions to the repertoire of German Lied (art song). The Liebeslieder Waltzes, Op 52, for vocal quartet and piano duet are particularly delightful, while the solo songs include the moving Four Serious Songs, Op 121, reflecting preoccupations as his life drew to a close. 'Wiegenlied' ('Cradle Song') is one of a group of five songs, Op 49; the charming 'Vergebliches Ständchen' ('Vain Serenade') appears in the later set Five Romances and Songs, Op 84, and there are two particularly wonderful songs for contralto, viola and piano, Op 91: 'Gestillte Sehnsucht' ('Tranquil Yearning') and the Christmas 'Geistliches Wiegenlied' ('Spiritual Cradle-Song'), Op 91, based on the carol 'Josef, lieber Josef mein'('Joseph dearest, Joseph mine').
Major choral works by Brahms include the monumental A German Requiem, Op 45, a setting of biblical texts; the Alto Rhapsody, Op 53, with a text derived from Goethe; the Schicksalslied ('Song of Destiny'), Op 54 (a setting of Hölderlin); and a series of accompanied and unaccompanied choral works, written for the choral groups with which he was concerned in Hamburg and in Vienna.
Born near Warsaw in 1810, the son of a French émigré and a Polish mother, Chopin won early fame in the relatively limited circles of his native country before seeking his fortune abroad, in Paris. His departure from Warsaw coincided with the unsuccessful national uprising against Russian domination, and Chopin found himself in Paris in the company of a number of other Polish exiles. He was able to establish himself as a pianist and as a teacher of the piano, primarily in fashionable society. For some ten years Chopin enjoyed a liaison with the writer George Sand, but he broke with her during the last years of his life, which was brought to a close by the tuberculosis from which he had long suffered. His compositions, principally for the piano, make a remarkable use of the newly developed instrument, exploring its poetic possibilities while generally avoiding the more obvious ostentation of the Paris school of performers.
Orchestral Music
As a young musician embarking on a career as a pianist, Chopin provided himself with half a dozen works for piano and orchestra, a form for which he later found no necessity. These include two piano concertos, three works based on Polish themes, a fantasia, a Krakowiak and a grand polonaise, and a set of variations on a theme by Mozart.
Chamber Music
Chopin wrote his Introduction and Polonaise brillante for cello and piano for an early patron, and towards the end of his life he wrote a cello sonata. His G minor Piano Trio is a valuable addition to recital repertoire.
Piano Music
Chopin created or developed a number of new forms of piano music, vehicles for his own poetic use of the instrument, with its exploration of nuance, its original harmonies and its discreet but often considerable technical demands. He used the popular form of the waltz in a score of such compositions, of which the so-called Minute Waltz is probably the best known of many of almost equal familiarity. A Polish dance, the polonaise, elevated from village to ballroom, provided the basis of another characteristic form in sixteen such works, written between 1817, when Chopin was seven, and 1846. The best known, among generally familiar works, are the Polonaise in A major, Op 40, No 1, the Polonaise in A flat, Op 53, and the Polonaise-Fantaisie, Op 61. Other Polish dances used by Chopin include the 62 mazurkas. The four ballades are supposedly based on patriotic poems by Chopin's friend Mickiewicz, evocative narrative works with no precise extra-musical association. The 21 nocturnes continue an evocative form initiated by the Irish pianist John Field. Chopin wrote 26 preludes, 24 of them completed during an ill-fated winter with George Sand in Mallorca, and 27 études, of which the Revolutionary Étude is perhaps the best known. Other compositions include four scherzos, expansions of the earlier form into a more extended virtuoso piece, three sonatas, a berceuse, a barcarolle, four impromptus and a number of other works. The whole body of Chopin's music is of the greatest musical and technical importance, melodies often of operatic inspiration and harmonies and forms of considerable originality.
Life and Works of Chopin
Naxos new "Composer Sound-Portraits", containing 4 CDs and a 164-page booklet
In the rigid official musical establishment of Paris in the second half of the nineteenth century, Gabriel Fauré won acceptance with difficulty. He was a pupil of Camille Saint-Saëns at the Ecole Niedermeyer and served as organist at various Paris churches, including finally the Madeleine, but he had no teaching position until 1897 at the Conservatoire, where his pupils included Ravel and Enescu. In 1905 he became director of the Conservatoire in the aftermath of the scandal of the refusal of the Prix de Rome to Ravel and introduced a number of necessary reforms. He retired in 1920, after which he was able to devote himself more fully again to composition, notably two final chamber works, a piano trio and a string quartet. He died in Paris in 1924.
Stage Works
In 1893 Fauré wrote incidental music for a production of Molière's Le bourgeois gentilhomme. The Sicilienne for this production was later used again in incidental music for Maeterlinck's Pelléas et Mélisande and later still won popularity in a variety of arrangements, including the composer's own orchestral version and arrangement for violin or cello and piano. There is a concert suite from Pelléas et Mélisande, orchestrated by Fauré's pupil Koechlin.
Orchestral Music
Fauré's nostalgic Pavane is an orchestral work with an optional chorus part, added at the suggestion of a patron, but generally omitted in modern performance. Music for solo instrument and orchestra includes the Ballade for piano and orchestra, Berceuse for solo violinand Elégie for solo cello. The piano duet Dolly Suite was arranged for orchestra in 1906 by Henri Rabaud.
Vocal
Fauré is a song composer of major importance, capturing in his settings the spirit of his time, the mood of nostalgic yearning for the unattainable. Some of the songs, such as 'Après un rêve' ('After a Dream') have achieved even wider popularity in instrumental transcription. In addition to individual songs of great beauty, 'Lydia', 'Clair de lune', 'Les roses d'Ispahan', 'Sylvia', 'En prière' and many others, there are song cycles, including the Verlaine settings La bonne chanson and Cinq mélodies de Venise, L'horizon chimérique, La chanson d'Eve and Le jardin clos.
Church Music
Fauré's Requiem remains a standard element in choral repertoire, with its setting of funeral rites rather than the full Requiem Mass of tradition. The earlier Messe basse ('Low Mass') was originally a collaborative composition of 1881 with Messager, but its final revision in 1906 consists of four Mass movements by Fauré himself.
Chamber Music
Chamber music by Fauré includes two fine violin sonatas and the Piano Trio and String Quartet of his last years. There are several evocative smaller pieces, including Romance, Berceuse and Andante for violin and piano and Elégie, Romance and Sérénade for cello and piano.
Piano Music
Fauré made a significant addition to piano repertoire, particularly in a series of thirteen barcarolles and a similar number of nocturnes, with five impomptus and a single ballade. The piano duet Dolly Suite was written in the 1890s for the young daughter of Emma Bardac, the later wife of Debussy and the singer for whom Fauré wrote La bonne chanson, after Bardac's divorce from her banker husband.
Born in Liège in 1822, César Franck was originally intended by his father for a career as a virtuoso pianist. In Paris his nationality excluded him at first from the Conservatoire, where he eventually failed to achieve the necessary distinction as a performer, turning his attention rather to composition. In 1846 he left home and went to earn his living in Paris as a teacher and organist, winning particular fame in the second capacity at the newly built church of Ste Clotilde, with its Cavaillé-Coll organ. He drew to himself a loyal and devoted circle of pupils and in 1871 won some official recognition as the nominated successor of Benoist as organ professor at the Conservatoire. A man of gentle character, known to his pupils as 'Pater seraphicus', he exercised considerable influence through his classes and performances although he remained, as a composer, something of an outsider in a Paris interested largely in opera.
Orchestral Music
Franck's best-known orchestral works are the Symphonic Variations for solo piano and orchestra and the Symphony in D minor, completed in 1888 and first performed at a Conservatoire concert the following year. A brief series of symphonic poems includes the early Ce qu'on entend sur la montagne ('What is heard on the mountain'), based on Victor Hugo's Le Chasseur maudit ('The Accursed Huntsman'); Les Djinns, again after Hugo; and Psyché, a symphonic poem with chorus.
Sacred Music
Franck wrote a number of large-scale choral works on biblical subjects, as well as smaller-scale works for occasional or liturgical use. This last category includes the well-known Panis angelicus of 1872, originally for tenor, organ, harp, cello and double bass. Panis angelicus was later interpolated into the three-voice Mass of 1861.
Chamber Music
Franck wrote one violin sonata, which, like his symphony, is united by a cyclic use of thematic material that connects the movements. There is also a fine piano quintet, completed in 1879, and a final string quartet, written in 1890.
Organ Music
As a very distinguished organist, Franck wrote remarkably little for the instrument on which his improvisations had won him fame and pupils. Organ compositions published include Trois Chorals of 1890 and Trois Pièces, written a dozen years earlier. The six organ pieces published in 1868 are entitled Fantaisie; Grande Pièce Symphonique; Prélude, fugue et variation; Pastorale; Prière; and Final.
Piano Music
Franck's earlier piano music was designed for his own virtuoso performance. Two later works remain in general repertoire: the Prélude, choral et fugue of 1884 and the Prélude, aria et final, completed in 1887.
The son of a schoolmaster who had settled in Vienna, Franz Schubert was educated as a chorister of the imperial court chapel. He later qualified as a schoolteacher, briefly and thereafter intermittently joining his father in the classroom. He spent his life largely in Vienna, enjoying the company of friends but never holding any position in the musical establishment or attracting the kind of patronage that Beethoven had 20 years earlier. His final years were clouded by illness as the result of a syphilitic infection, and he died aged 31, leaving much unfinished. His gifts had been most notably expressed in song, his talent for melody always evident in his other compositions. Schubert's compositions are generally numbered according to the Deutsch catalogue, with the letter D.
Stage Works
Schubert wrote operas, Singspiel and incidental music for the theatre. His best-known compositions of this kind include the music for the unsuccessful play Rosamunde, Fürstin von Zypern ('Rosamunde, Princess of Cyprus'), mounted at the Theater an der Wien in December 1823. The ballet music and entracte from Rosamunde are particularly well-known.
Church Music
Among the various works Schubert wrote for church use, particular mention may be made of the second of his six complete settings of the Mass. He completed his final setting of the Mass in the last year of his life, and it was first performed the following year.
Choral and Vocal Music
Schubert wrote for mixed voices, male voices and female voices, but by far the most famous of his vocal compositions are the 500 or so songs—settings of verses ranging from Shakespeare to his friends and contemporaries. His song cycles published in his lifetime are Die schöne Müllerin ('The Fair Maid of the Mill') and Die Winterreise ('The Winter Journey'), while Schwanengesang ('Swan Song') was compiled by a publisher after the composer's early death. Many songs by Schubert are very familiar, including 'Der Erlkönig'('The Erlking'), the 'Mignon'songs from Goethe and the seven songs based on The Lady of the Lake by Sir Walter Scott.
Orchestral Music
The 'Unfinished' Symphony of Schubert was written in 1822, but no complete addition was made to the two movements of the work. Other symphonies of the eight more or less completed include the 'Great' C major Symphony and the Classical and charming Fifth Symphony. His various overtures include two 'in the Italian style'.
Chamber Music
Of Schubert's various string quartets the Quartet in A minor, with its variations on the well-known Rosamunde theme and the Quartet in D minor 'Death and the Maiden', with variations on the song of that name, are the most familiar. The Piano Quintet, 'Die Forelle' ('The Trout'), includes a movement of variations on that song, while the great C major String Quintet of 1828 is of unsurpassable beauty. The two piano trios and the single-movement Notturno date from the same year. Schubert's Octet for clarinet, horn, bassoon, two violins, viola, cello and double bass was written early in 1824. To the violin sonatas (sonatinas) of 1816 may be added the more ambitious 'Duo' Sonata for violin and piano, D. 574, of the following year and the Fantasy, D. 934, published in 1828, the year of Schubert's death. The 'Arpeggione' Sonata was written for a newly devised and soon obsolete stringed instrument, the arpeggione. It now provides additional repertoire for the cello or viola.
Piano Music
Schubert's compositions for piano include a number of sonatas, some left unfinished, as well as the Wanderer Fantasy and two sets of impromptus, D. 899 and D. 935. He also wrote a number of dances for piano—waltzes, Ländler and German dances. His music for piano duet includes a Divertissement à l'hongroise, marches and polonaises largely written for daughters of a member of the Esterházy family, for whom he was for a time employed as a private teacher.