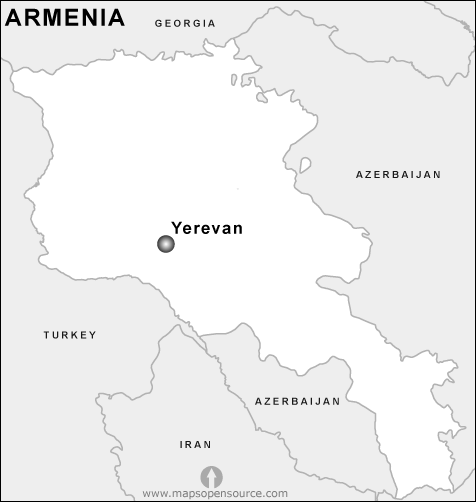 Straddling Europe and Asia, the Republic of Armenia is a small, landlocked country with an outsized cultural output. This is in part due to its large diaspora, members of which are easily recognisable by the patronymic suffix '-ian' (sometimes spelled '-yan'), including Serj Tankian (of the rock group System of a Down), French crooner Charles Aznavour (born Charles Aznavourian), Cher (born Cherylin Sarkissian), and yes, Kim Kardashian and her sisters.
Armenia's history stretches back more than 3000 years. It was reputedly the first state in the world to adopt Christianity as its official religion, in 301 AD. Armenia's many mountains, which vary from lush to arid, are dotted with ancient monasteries and religious sites built in places of incredible natural beauty, such as the 4th-century Etchmiadzin Cathedral, the headquarters of the Armenian Church. The historical and cultural development of Armenia is closely linked to the Church, in which music plays an important role. Folk and sacred music, though serving different roles in traditional Armenian culture, evolved and flourished in tandem throughout the centuries. Indeed, regardless of categorisation, Armenian music has some distinctive common features: it is not based on the European tonal system, but on tetrachords—shifting modal centres and unmetred singing. The rhythmic idioms played on instruments such as the duduk, zurna, and shvi, are made to imitate the natural inflection of the Armenian language.
For much of its tumultuous history, Armenia was ruled by neighbouring powers. Armenia's history is marked with war and suffering, but the survival of its people is a testament to their tough, proud and enterprising nature. Armenians today have a strong connection to their history, finding strength in their country's survival, and music has played a large role in preserving their sense of national identity. To validate their own national and ethnic identities, the Armenians have worked hard to preserve and maintain their culture.
To help catalogue and promote the Armenian musical heritage, Grand Piano has embarked upon a project to release the piano works of many of Armenia's composers. The "Armenian treasures" series now numbers eight recordings of works by eight composers, and is growing.
Armenia's rich musical history was first codified in the late 19th century by the musicologist and priest Komitas [Vardapet] (1869–1935). He spent his early years learning Armenian liturgical music in Etchmiadzin Cathedral, then studied in Berlin, and thereafter tried to capture and build a national musical tradition. He collected and published numerous folksongs and church melodies, and promoted his country's musical heritage through touring his choir in several European cities. Komitas' work laid the foundations for the development of a national musical style. His efforts to preserve Armenian musical heritage and his own musical compositions within that heritage, have been a great source of inspiration for subsequent Armenian composers. Indeed, it would be no exaggeration to state that in Armenia Komitas' legacy is similar to that of Béla Bartók in Hungary, as a national cultural hero.
Armenia has produced many composers of international renown. Haro Stepanian (1897–1966), best known for his Armenian operas, followed the pioneering efforts of Komitas in establishing a strong national voice for Armenian music. He composed three symphonies, operatic works, numerous songs, chamber pieces, and works for piano.
Composer Sarkis Barkhudaryan (1887–1973)is representative of the early Soviet Armenian era. He is famed for his piano miniatures, among the first piano works to use Armenian folk themes as the basis for a series of original compositions.
Another leading Soviet era composer is Arno Babadjanyan (1921–1983). An outstanding pianist and a considerable virtuoso, he explored the Armenian folk tradition with colour-conscious orchestration.
Perhaps the most famous Armenian composer, however, is Aram Khatchaturian (1903–1978). He is best known for his ballets, especially the Sabre Dance from his composition for the ballet Gayene. A groundbreaking composer, he created the first Armenian ballet music, symphony, concerto and film score. Although working in the grey years of Soviet oppression, it can be argued that the USSR's use of art as propaganda indirectly benefitted Khatchaturian. Stalin's idea of promoting the concept of 'pan-Sovietism' through folklore suited Khachaturian, who drew musical inspiration from the sounds and history of his homeland. However, his piano works have been somewhat neglected in recent years and are explored more fully in the recording by Karine Poghosian.
Eduard Ivanovich Bagdasarian (1922–1987) was one of the most respected figures in the modern development of Armenian music. While he steadily built up a reputation as a composer of concert music in his early years, from the mid-1950s he became increasingly involved in film music and incidental music for the stage and television. He gained national prominence as an ambassador for Armenian music, which he fulfilled many times as a delegate to other Soviet republics, and abroad.
Alexander Arutiunian (1920–2012) was a prominent composer of the USSR, best known for his Trumpet Concerto in A-flat major. An accomplished pianist, Arutiunian created virtuoso piano works that are rooted in Armenian folk traditions while expressing, in the words of Hayk Melikyan, "a rich palette of emotions reflecting both his time and the history of his nation".
The composer, pianist and teacher Eduard Abramian (1923–1986) was a significant and much respected figures in the development of modern Armenian music. He wrote songs based on the poetry of Armenian poets Hovhaness Tumanyan and Avetik Isahakian, which are now part of the standard repertoire. His work is known for its dramatic contrasts of mood and colour.
Grand Piano is proud to have recordings of works by all these composers in its Armenian Treasures collection.
THE PIANISTS
The Armenian Treasures albums feature three fantastic young Armenian pianists:
A laureate of many international piano competitions, HAYK MELIKYAN was awarded a Gold Medal by the Moscow Composers Union in 2012 for his contribution to the promotion of contemporary music. Last year, he was awarded the distinguished title of Honorary Artist of the Republic of Armenia. Hayk has premièred numerous works by contemporary composers, several of which were written specifically for him. In 2018, his recording of Alexander Arutiunian's Complete Piano Works [GP718] won the Best Classical Album of the Year award by Armenia's Ministry of Culture.
MIKAEL AYRAPETYAN was born in 1984 in Yerevan, where he had his early schooling. In 2004 he entered the Moscow Tchaikovsky State Conservatory and while a student, he became interested in researching Armenian composers and particularly those that had never or rarely been performed. Mikael continued his postgraduate studies at the Moscow Conservatory in 2009. His repertoire ranges from the baroque to the contemporary but with a special dedication to discovering musical treasures from his homeland.
The Armenian pianist KARINÉ POGHOSYAN made her orchestral début at the age of 14 playing Beethoven's first Piano Concerto; then made her solo Carnegie Hall début at 23; and has since gone on to win numerous awards. After receiving her BM, summa cum laude, from California State University in Northridge, she received her MM and DMA degrees under Arkady Aronov at the Manhattan School of Music, where she now teaches.
THE GRAND PIANO ARMENIAN TREASURES SERIES
'Mikael Ayrapetyan's assured technique and natural flair for his countryman's aesthetic result in performances that effortlessly fuse poetic nuance and high-octane virtuosity.' – ClassicsToday.com

Visit the ALBUM MINI-SITE
Best Album of the Year – Classical Genre, Ministry of Culture of Armenia

'Hayk Melikyan's playing is spiky, incisive, energetic, clear, and precise.' – Fanfare

Visit the ALBUM MINI-SITE
'…Hayk Melikyan…has power and agility to spare, with plenty of attention to inner voicings.' – Fanfare

'The piano works by Arno Babadjanian are performed by the talented pianist Hayk Melikyan, who is capable to listen and release new shades of meaning of each piece. His exceptional interpretations are inspired by the Pianist's individual perceptions of the dynamics of his time.' – Araksi Saryan, musicologist (Honorary Art Worker of Armenia)

Visit the ALBUM MINI-SITE
'Mikael Ayrapetyan makes the best possible case for this music, enshrined in a fine recording.' – International Piano

Visit the ALBUM MINI-SITE
'Armenia is famous for its ancient history and cultural traditions that permeate the country's wealth of music. With its depth of expression, lyricism and authentic reflection of national traits, Armenian music retains a special place in the world's artistic heritage.

My 'Secrets of Armenia' international music project is the country's leading authority on Armenian classical music. It leads the way in a pioneering development and appreciation of forgotten, yet uniquely significant pieces of Armenia's classical tradition. Art should not remain in oblivion.' – Mikael Ayrapetyan

Visit the ALBUM MINI-SITE
'Kariné Poghosyan's is a great performer of this seldom heard, flamboyantly romantic repertoire. Her playing is full of passion, deep breath and she has obviously a great sense of dynamics that serves the music magnificently.' – Pizzicato

Visit the ALBUM MINI-SITE
'It is a program of great beauty, well played. …It is a real treasure!' – Gapplegate Classical-Modern Music Review

Visit the ALBUM MINI-SITE
Ayrapetyan plays… with a wide palette of tonal colour, fine virtuosity, and consummate musicianship. – American Record Guide

Visit the ALBUM MINI-SITE
LISTEN TO ARMENIAN PIANO TREASURES VIA SPOTIFY