Participants at the Naxos Germany's annual retailer conference in Munich were in for a surprising treat when Georgian-German pianist INGA FIOLIA appeared at the conference to perform pieces from her debut recording of Mikhail Glinka's piano works for Grand Piano. The Cologne-based Fiolia was in Munich to give a release concert at the Steinway Hall.
Inga Fiolia has made a name for herself as a young, exciting and gifted performer, particularly in Germany where she has won several international piano competitions. She has appeared twice on the ARTE TV show "Stars of Tomorrow", hosted by world-renowned tenor and ECHO Klassik prizewinner Rolando Villazon.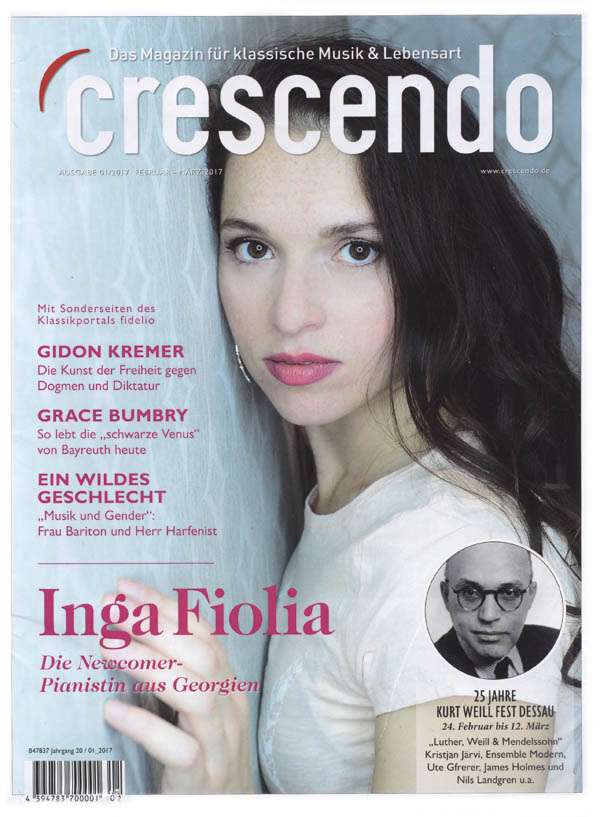 Fiolia's debut recording, released in February, has received extensive interest from the German music press with two major publications – Crescendo and Piano News – issuing major articles, interviewing the young pianist, and Crescendo even featuring her on the cover. Glinka is one of her favourite composers, which is noticeable in her inspired performance of the delightful Variations.
Two-time GRAMMY Award-winning jazz pianist, arranger and composer Alan Broadbent has this to say about the recording: "We seem to be living in a musical world full of pianists who amaze us with displays of technique that even Liszt would be astonished by, I'm sure. But music, to me, is more precious and lasting when an artist opens the door to our hearts and communicates feelings expressed in the notes that a more superficial performance won't reveal. Such an artist is Inga Fiolia. When I hear her play I am transported across generations into the essence of the music. This collection of Glinka pieces is a delightful introduction not only to his music, but to the transparency and beauty of Ms. Fiolia's superb playing."