From an artistic family, whose own father had been a pupil of Rimsky-Korsakov, Russian composer, pianist and conductor Alexander Tcherepnin had written music from a very young age. An exile from his native country in 1921, he was later based in Paris and the United States where he continued to write music in every genre. Concentrating on his early piano works, this disc shows how Alexander Tcherepnin's mastery of the miniature was allied to huge imagination. The Pieces sans titres, Op. 7 are richly characterised gems and the Petite Suite, Op. 6 teems with resourceful vitality. By the time of Message, Op. 39, composed in 1926, and one of his masterpieces, he had developed an arrestingly dramatic approach to rhythm.
This recording was made on a modern instrument: Steinway, Model D
The Artist(s)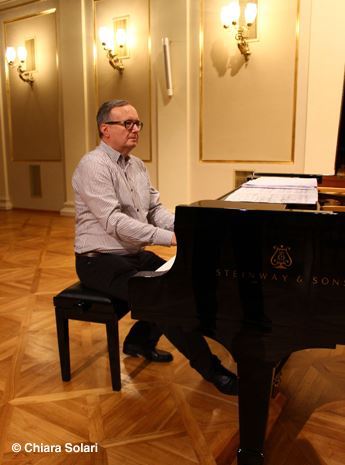 Giorgio Koukl is a Czech pianist/harpsichordist and composer. He studied at both the Conservatories of Zürich and Milan, where he took part in the masterclasses of Nikita Magaloff, Jacques Février and Stanislas Neuhaus, and with Rudolf Firkušný, friend and advocate of Czech composer Bohuslav Martinů. It was through Firkušný that Koukl first encountered Martinů's music, prompting him to search out his compatriot's solo piano works. Since then he has developed these into an important part of his concert repertoire and is now considered one of the world's leading interpreters of Martinů's piano music. As a logical continuation of this work, Koukl has recorded the complete solo piano works of Paul Le Flem, Alexander Tcherepnin, Arthur Lourié, Vítězslava Kaprálová, Witold Lutosławski, and more recently, Alexandre Tansman, Vittorio Rieti and Tibor Harsányi.
Reviews

"Giorgio Koukl, true master of contrasting and powerful playing, delivers these muscled works with ease and nature and signs a reference straight away" – Classica

"Giorgio Koukl's playing is phenomenal... This disc was a truly superb listening experience." – MusicWeb International

"Focusing on Tcherepnin's early years, this volume contains some super music. The performances are committed and energetic." – BBC Music Magazine
"Koukl proves himself a most sympathetic advocate for Tcherepnin's music, whether on a small or large scale." – International Piano
"I repeat my previous comments on the impeccable clarity of Giorgio Koukl's playing and the beautiful natural piano sound of this Swiss recording that I much enjoyed in the first release." – David Denton