The first volume devoted to Arthur Vincent Lourié's piano music traces his journey from the Debussian Impressionism of his youthful Cinq Préludes fragile, Op. 1 through absorption of Scriabin's chromaticism in the eerie Masques (Tentations) of 1913 to the near-Cubism of Formes en l'air. Though lauded – or derided – as a pioneering Futurist, his post-Revolutionary writing in France embraced a nostalgic Neo-Classicism represented by the blithe Petite Suite en Fa.
The Artist(s)
Giorgio Koukl is a pianist/harpsichordist and composer. He was born in Prague in 1953, and studied there at the State Music School and Conservatory. He continued his studies at both the Conservatories of Zürich and Milan, where he took part in the masterclasses of Nikita Magaloff, Jacques Février, and Stanislaus Neuhaus, and with Rudolf Firkušný, friend and advocate of Czech composer Bohuslav Martinů.
The Composer(s)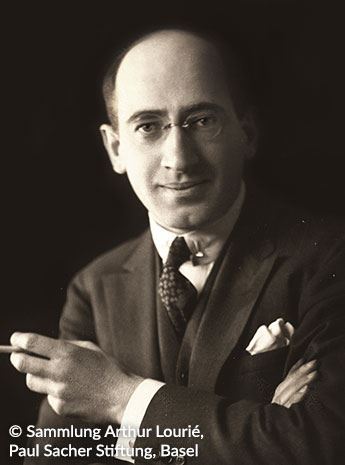 Although Lourié studied at the St Petersburg Conservatoire, where his composition teachers included Alexander Glazunov, his main musical influence in his youth was Alexander Scriabin, whose late piano works fascinated him. He was also greatly inspired by the Futurists, and he made musical settings of verses by poets such as Anna Akhmatova (with whom he conducted a passionate affair). Vladimir Mayakovsky and Alexander Blok affected him profoundly through the eloquence of their writing and the allure of their political views, which appealed to Lourié's own radical disposition. He fully espoused the idea of transforming human consciousness through the kind of spiritual revolution that was the hallmark of the Russian Symbolists.
Reviews
"This is a wonderful album and one highly recommended for its unusual content, splendidly played and recorded." – The Art Music Lounge
"…blessed hands…the best possible advocate for the exciting sound travel into the inner world of piano…" – Piano News
"…a recording of demonstration quality, and a pianist totally in tune with the music. Fascinating…" – American Record Guide
"An exciting composer, exciting repertoire, marvellously performed. Recording, layout and packaging are equally flawless. What can one other say than: Recommended." – www.klassik.com
"We should thank our lucky stars that people like Giorgio Koukl are sufficiently motivated to pursue these searches with such determined zeal and this coupled with his luminous playing makes this disc a superb place to begin to fire up one's interest in such a musically fascinating find." – MusicWeb International
"The precision of his fingers is always a delight when listening to Giorgio Koukl, and he proves a compelling Lourie champion. " – David Denton