Paul Le Flem belonged to the Parisian circle of Martinu, Tcherepnin and Tansman, summing up his own music as a fusion of three influences: his native Brittany, Debussy and D'Indy. His career was sadly interrupted by World War I, but the intense poetry of his earlier works reflect the ever-changing land and seascapes of Brittany, and the variety of its mysteries and legends from the lighthearted to the disquieting. Of special note among the première recordings on this album are the atonal Pour la main droite, the wartime Mélancolie with its opening and perhaps ironic quotation from La Marseillaise, and Les Korrigans, a waltz inspired by the Korrigan, a magical creature in Breton folklore.
The Artist(s)
Giorgio Koukl is a pianist/harpsichordist and composer. He was born in Prague in 1953, and studied there at the State Music School and Conservatory. He continued his studies at both the Conservatories of Zürich and Milan, where he took part in the masterclasses of Nikita Magaloff, Jacques Février, and Stanislaus Neuhaus, and with Rudolf Firkušný, friend and advocate of Czech composer Bohuslav Martinů.
The Composer(s)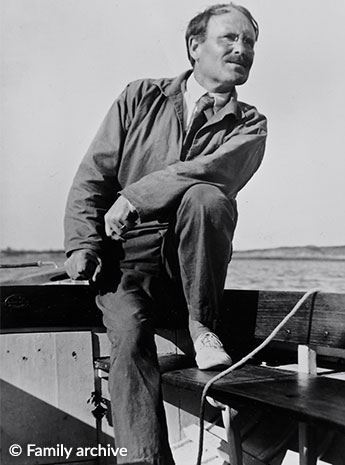 Like his older colleagues Guy Ropartz and Louis Aubert, he was of Breton origin, and once recalled: "The first music I heard was the folk songs of Brittany, which were very beautiful—they seduced me, lit the flame of love within me…" That Breton soundworld of his childhood was soon broadened and enriched when he began to teach himself harmony and music theory. He went to his first concerts and opera performances in Brest, and started composing before he sat his baccalauréat exams in 1899. Like Albert Roussel a few years earlier, Le Flem heard the call of the sea and planned to study at the École Navale, but in the event, his poor eyesight meant a maritime career was out of the question. Instead he went to Paris, studying with Lavignac at the Conservatoire—where the academic teaching style failed to enthuse him—as well as graduating in philosophy from the Sorbonne.
Reviews
"The booklet notes are excellent, performances everything you could hope for in obscure music, and the piano sound is up to Grand Piano's established high standards." – American Record Guide
"Imagining a better advocate for the piano music of Le Flem is impossible. It brings a great benefit to listen how Giorgio Koukl captures the music of this French composer. …the pianist generates a stupendous and delicate feeling for the shimmering nuances…" – Piano News
"This is piano music at its finest, which gives enormous pleasure to hear and makes me curious on his symphonic work or his songs. Neither his name or music is known! But such discoveries is one of the most beautiful possibilities of the CD medium." – The New Listener
"Core repertoire is of course highly important and fresh approaches to interpretation of all the familiar compositions is always welcome but how refreshing it is to be introduced to someone as interesting yet almost totally unknown as Paul le Flem. I urge you to listen to this captivating music so brilliantly played." – MusicWeb International

"The playing of the Czech pianist [Koukl], already heard in...Tchérepnine (Grand Piano), shines by its whimsy and its contrast...Marvelous." – Diapason